51 GALACTIC JAZZ LICKS
by Daniel Weiss
BUILD POWERFUL SOLOS
WITH CREATIVE MODERN JAZZ VOCABULARY
Hey,
How's it going?
Daniel Weiss here,
Do you Struggle soloing creatively over different chord progressions?
Do you Want to create more sophisticated melodic lines but..
Feel limited in your Jazz/Fusion vocabulary?
Ever feel it is time to go beyond and think 'outside the box' with some fresh sounds but..
you don't really know where to start?
well, If you answered yes to any of these questions I know exactly how you feel.
I've been there myself not that long ago.
I've spent 2 decades practicing, exploring, creating and perfecting my playing,
and was lucky enough to study with some of the best teachers in the world.
So today as a busy professional musician and educator, I feel blessed to be able to create and play the way I want, and enjoy an exciting international career.
It is my mission to help my students unleash their creativity, enhance their musical ability and find joy in playing the music we all love so much.
So if you're interested in learning how to:
create solos,
create super melodic lines over sophisticated chord progressions,
and think 'out of the box'..
This will be a special treat for you!
introducing
51 GALACTIC JAZZ LICKS
Discover 51 ready to use Modern Jazz licks

all original, extending a wide range of possibilities.

A treasure of note choices and possibilities

that will totally open your ears and enhance your creativity.

Build a unique musical vocabulary

using 'In' and 'out' phrases and sounds.

Create melodic phrase lines

applicable to many different styles and chord progressions.

Instantly sound like a seasoned pro

from the very first example!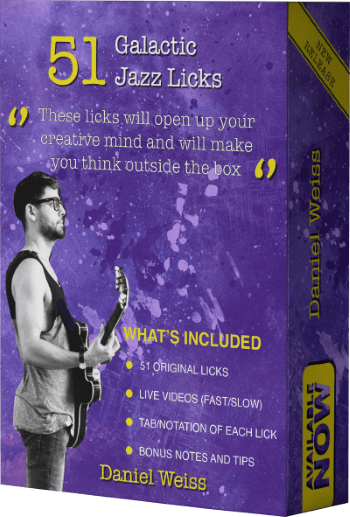 51 Galactic Jazz Licks takes you to the next level of 'outside the box' thinking
Within these licks you will master advanced arpeggios and substitutions, so you can apply these skills in any musical situation.
51 Galactic Jazz Licks goes way beyond by drawing inspiration from advanced jazz theory to teach you the sounds you won't learn anywhere else. You'll master advanced concepts like 'in' and 'out' triads, extended arpeggios, scale integrations and more…
Every concept is taught with creative licks and melodic ideas, so the theory becomes instantly musical.
"If you are looking to expand your vocabulary and licks with some really tasty and 'out of the box' ideas, this is for you!"
Kaspar Jalily from France
" The licks are an awesome way to expand your vocabulary and also explore new interesting sounds."
Gal from Israel
" A great way to get more modern sounds and outside sounds into your playing."
Matt from England
" Every lick has a unique modern sound and the website is really easy to use. I guarantee you will have fun with this course."
Ernesto from Ecuador
"this is a really cool place to start and learn more about jazz."
Soorya from India
" This is a super good product that helps you increase and develop your playing and soloing"
Mattias from Chile
HERE'S WHAT YOU GET:
51 Hot Original Modern Jazz / Fusion Phrases

Get inspired and get excited while you make them your own.

Live easy to follow videos

Arranged by chord and progression for easy learning.

Real-time and slow versions

Perfect for practicing

Complete Tabs & Notation Ready to Download and Print

So you can choose what to follow

Audio Backing Tracks

Music "Minus One" – YOU!
and when you order now you will also get
These Very Special Bonuses:
Access to my Private VIP Facebook Group

Transcriptions and more licks from my most popular Instagram posts

Live Webinars
Get It Now
Only 24$
100% SATISFACTION GUARANTEED!
If you decide within 14 days the course isn't worth your money.
Just write me and I will refund your money.
No questions asked!